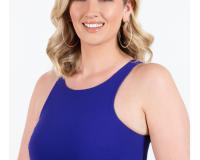 Jennissa was born and raised in southwest Missouri. It was early on in her life that she knew she was destined to make moves. Upon the completion of her studies at the University of Arkansas, she embarked on a nannying career that led her around the world. After residing in six different states in the U.S. and spending a large amount of her time abroad, she chose to make Texas her forever home in the fall of 2018.

It was through her numerous dwellings and worldly travels that she developed an appreciation for art, interior design, and architecture—all of which are key elements in making a house a home. Whether it be a rehab or new construction, Jennissa strongly believes that every property possesses potential.

"There's some form of good in every home on the market—you just have to find it. A little bit of vision and a lot of patience is the key to finding the perfect home."

In her free time, you can find Jennissa at a local country concert, skiing the mountains in Utah, or even at the baggage claim at DFW after taking a last minute trip to visit old friends. She also enjoys spending time with her family and drawing herself closer to her faith.
Send Jennissa a Message